I'm happy to announce that Madeleine Preston and Anthony Bautovich, curators of Home@735 Gallery in Sydney,
invited me to take part in their June show with photographs from my Almost There series.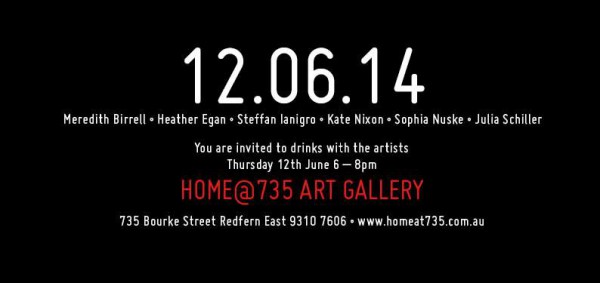 "12.06.14″
Meredith Birrell (painting) | Heather Egan (painting) | Steffan Ianigro (video, sound and performance) |
Kate Nixon (glass) | Sophia Nuske (ceramics) | Julia Schiller (photography)
Opening: Thursday 12th June 2014 from 6 – 8pm
Exhibition: June 12 – July 6, 2014
Home@735 Gallery, Sydney
735 Bourke Street Redfern 9310 7606 (map)
Gallery hours Thurs 4 – 7pm Sat 4 – 7pm & Sun 2 – 5pm
Since opening up their terrace house in Sydney's Redfern as an art gallery in October 2013, Madeleine and Anthony have curated monthly exhibitions with works by emerging and established painters, photographers, illustrators, and ceramic and glass artists. The combination of the scale and nature of the venue bridges the gap between audience and artist. Home@735 gallery provide artists with exposure and the public with a comfortable, less intimidating environment to view artists' work.
→ Home@735 Gallery
→ Home@735 Gallery on Facebook
→ RSVP to the event on Facebook
–
Print sale
On the occasion of the exhibition I'm having a print sale with the motifs from the Almost There series:
Each print is 77€  (+ shipping: Germany: 6€ / Europe: 8€ / Worldwide: 13€)
Size: 21 x 31 cm (8.3 x 12.2")
Paper: Fuji Crystal Archive Paper Type II with a semi-matte finish;
[framing/mounting options are available on request.]
If you would like to order a print or in case you have any questions,
please drop me a line by email or via the form below and I'll get back to you as soon as possible.
Shipping of prints will take place around mid July.
Payment is possible via PayPal or bank transfer.